The Parents Association strives to foster an inclusive sense of community.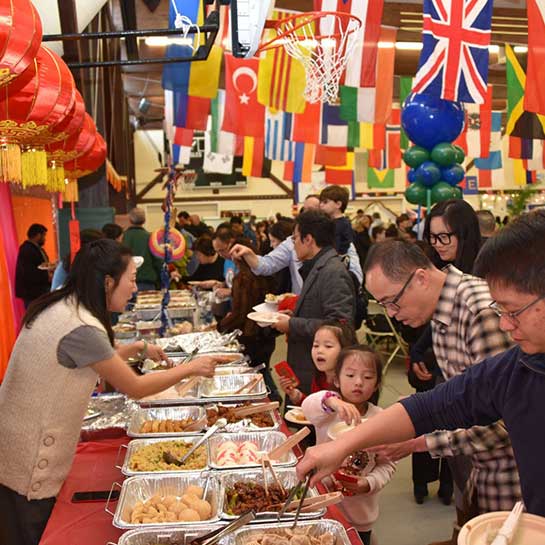 Inclusivity
All parents and other caregivers of EMS students are automatically members of the Parents Association.
Engagement
All families are encouraged to become engaged in school activities.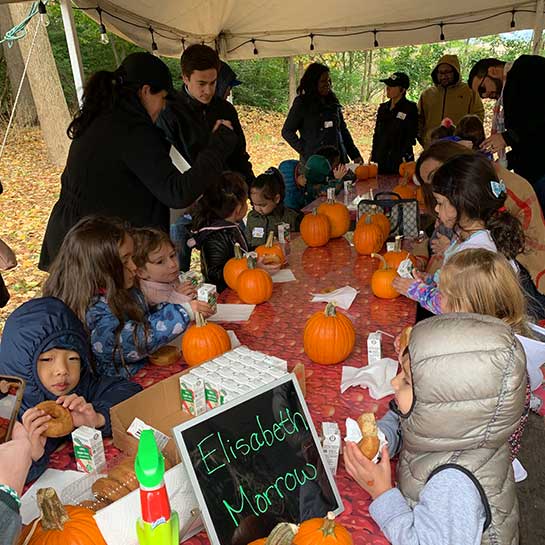 opportunity
Parents can join a variety of committees and clubs, sign up to be class parents, and volunteer at events.
Parents Are a Vital Part of the Elisabeth Morrow Community
The Parents Association strives to foster an inclusive sense of community; support and express appreciation for the faculty and staff; offer a forum where EMS families can convey issues of interest; provide parent education; create social opportunities for students and parents; and help connect families to each other.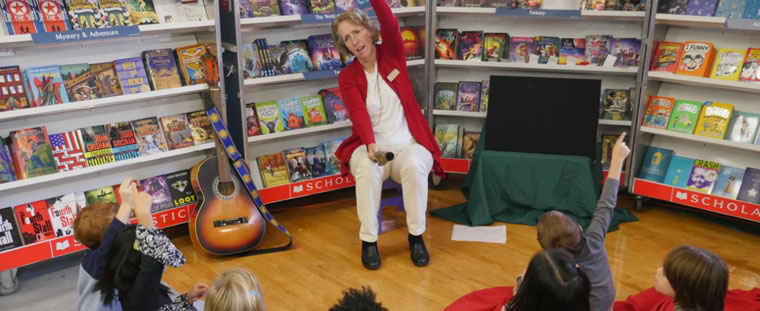 The Book Fair and Storytelling Festival
This multi-day event typically features guest authors, a sing-along, workshops, performances, a raffle, and a flashlight picnic. The fair is a major fundraiser for our Parents Association and also allows our community to support the EMS libraries through book donations.

International Food Festival
The International Food Festival is a biennial event that celebrates EMS' multicultural community. Families from many backgrounds share their culture through food, crafts, and traditions.

Start-of-School Welcome
At this annual event, which is offered as a breakfast when possible, the Parents Association shares their plans for the year and how parents and other caretakers can get involved. It's also a great opportunity to catch up with old friends and make new ones.

Fall Festival
This annual tradition offers a day of outdoor fun for families and includes games, music, and seasonal activities. Fall Festival is also a great opportunity for prospective families to meet EMS families and administrators and enjoy our beautiful 14-acre wooded campus.
As a student at EMS, I vividly remember experiencing the joy of learning through its immersive classrooms from playing Sleigh Ride on the violin in unison with the orchestra to constructing a to-scale miniature Parthenon for the Greek Olympics in 6th grade.
As a parent, I never imagined that I would not only witness my children experience that same joy of learning but that as an adult, I would also learn so much and experience such joy as a participating member of the Parent Association. I remember the first time volunteering at the Cafe of the Book Fair and Storytelling Festival and was amazed at how the Gymkana was truly transformed into a literacy experience with student workshops, visiting authors and full food service.
Just as our children have an elevated experience through collaborative projects, the Parents Association encourages collaboration from everyone in the community to enrich and elevate our families' experiences at EMS.
Our community is so special, particularly because it stays true to our traditions such as the 4 C's and incorporates new and innovative ideas as well. It is a true privilege to lead such a wonderful parent group alongside such impressive and caring administration, faculty and staff.
— Lauren Camarinos, PA President '96 '27, '29
Our Structure
The Parents Association is run by eight parent volunteers who serve as officers of the Executive Board. It is funded by annual family dues and through its fundraising events. Monies are spent on our programming as well as making a sizable annual donation to The Apple Tree Fund.
Highlights of Parents Association activities include our Start-of-School Welcome, Parent Education Speaker Series, Fall Festival, community service drives, the biennial International Food Festival, Family Fitness Fun Day, and our primary fundraiser, The Great Storytelling Festival & Book Fair. The PA is responsible for running the school store and for organizing donations to the Faculty & Staff Gift Fund in December and June.