Activity Day
A tradition for more than 25 years, this on-campus event gives first through fourth graders an opportunity for fun and fitness outdoors.
Adventure Week
At the beginning of the school year, middle school students take part in outdoor educational experiences. Fifth-grade students take day trips as well as familiarize themselves with the Morrow House building, while sixth-, seventh-, and eighth-grade students travel overnight to explore the outdoors.
Apple Bake Sale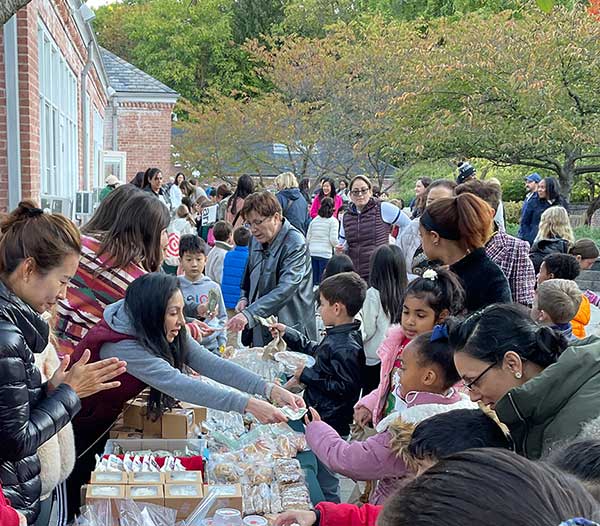 This annual Little School fundraiser, started in the 1990s by beloved teacher Grace Muller, features goods made with apples, baked or bought by our first-grade classes. Proceeds benefit an organization that the students are familiar with and that would make an impact on our local community.
Apple Tree Song
All students learn the school song and sing it together at assemblies and other celebrations. The song unifies students, faculty, and alumni and celebrates the strong roots that our students develop while at EMS, and that grow in unique and beautiful directions when they leave.
The Apple Tree Song
Lyrics by Morrow House students; music by music teacher Ann Crawford, c. 1970
There is a time for noise and fun,
A time for quiet too,
A time for learning all you can
In subjects old and new.
The world takes on a special glow
As knowledge grows and grows;
You can almost hear it passing
As through the Morrow halls it flows.
But it isn't kept within the walls,
It floats right out the door;
But especially in the apple tree
It seems to keep its stores.
If you listen very closely
When the leaves are stirring some;
You might hear Morrow, Morrow,
It's from here the future comes.
Oh, the tree will keep on growing
As a tree is meant to do.
Giving shade to those beneath it,
And an inspiration too.
Now if I will keep on growing
In the way I'm meant to do,
Then dreams of Morrow's apple tree
May very well come true.
There is a time in years to come
When a special door I'll see;
Within the boundaries of my mind
Opening up to me.
And in the space that's then revealed,
An image will arise
Of apple blossoms clinging to a tree of stately size.
Though fragrant much as other trees of similar descent,
It holds a very special bloom in view of what is meant
And I see it in the courtyard of a place that was for me.
Much more than just a building,
Where I sat from nine to three.
Oh, the tree will keep on growing
As a tree is meant to do.
Giving shade to those beneath it,
And an inspiration too.
Now if I will keep on growing
In the way I'm meant to do,
Then dreams of Morrow's apple tree
May very well come true.
Assembly
Morrow House (fifth through eighth grade) meets every weekday morning in Assembly to share successes, solidify community values, and celebrate students' talents. Periodically, the entire school meets in an All-School Assembly to unite the community.
Book Fair & Storytelling Festival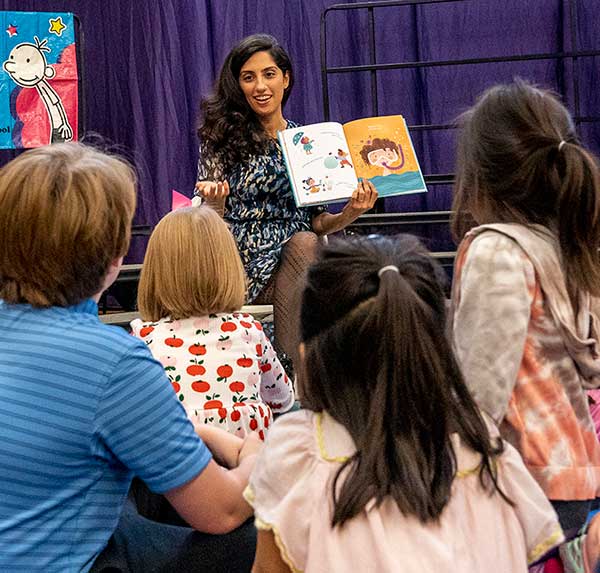 Organized by the Parents Association, this is a multi-day event for all grade levels that includes presentations by visiting authors, a café, and other activities, and allows families may purchase books for themselves and to donate them to our libraries.
Buddy Days
Throughout the year, students from different grade levels meet as buddies to engage in activities. Older students serve as mentors to their younger buddies, while younger students enjoy the opportunity to share their enthusiasm.
Chilton House Sing-Along
Weekly sing-alongs have been part of the Chilton House experience for many years and are one of the first community-building experiences for our youngest students.
Chilton House Cocoa Parties
Susan Graham, one of the first Kindergarten teachers hired when the school opened its doors in 1930, began the Cocoa Party tradition. In Chilton House, invitations are sent home with each child inviting them to a cocoa party, then our director of early learning meets with the students, reads an age-appropriate book, and discusses proper etiquette for a formal gathering while the children drink cocoa and eat Lorna Doone cookies. Our other divisions have their own age-appropriate cocoa parties, tied to the Winter Arts Festival that takes place before Winter Break.
Concert Extravaganza
Culminating musical performances by instrument, these concerts include the Cello Rockdown, the Violin and Viola Playdown, and the Superband Concert.
Fall Festival
Organized by the Parents Association, this event welcomes families back to campus with fun and games for all ages.
Festival of the Arts
The final major middle school performance of the school year includes a student art show, poetry reading, and music by bands, orchestras, ensembles, and choral groups.
Field Day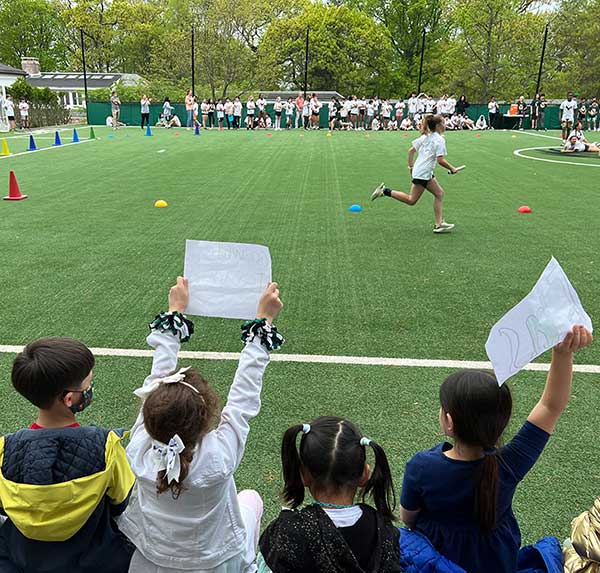 Field Day is a coveted tradition for EMS middle school students, during which they demonstrate athletic skills and sportsmanship, develop solidarity among their peers, and have fun.
Morrow House Carnival
This service learning initiative fosters community and creativity as each Morrow House advisory group designs, creates, and implements a carnival booth. Each year, the money generated from the "tickets" to enter the carnival is donated to a local charity that benefits children, as decided by the student council.
Handshake
Throughout the year, students are greeted with a handshake from a school administrator or teacher at the start of the day. The handshake signifies the notion that each student is unique and known by caring adults in school, and that each day has a purpose.
Handshake Up
At the conclusion of the year-end Little School concert, fourth graders receive their final handshake from the Head of Lower School, and they walk across the stage to shake hands with the Head of Middle School. This ceremony is their special welcome into Morrow House.
International Food Festival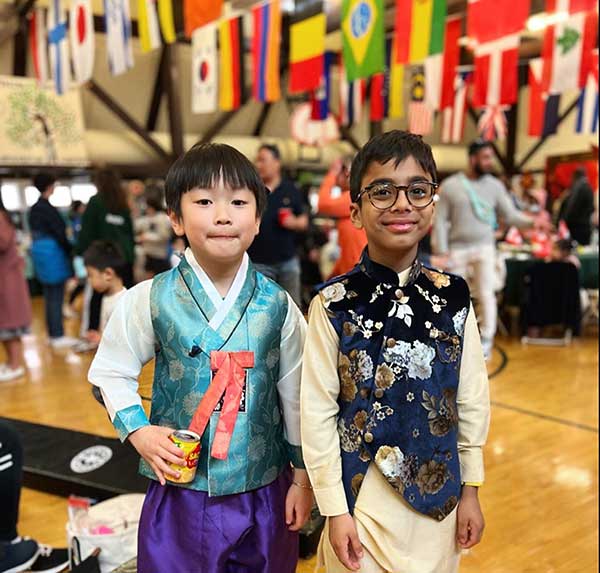 Held biennially, this event celebrates our families and their cultural heritages and traditions through food.
Kindergarten Circus
Started in 1934, the Kindergarten Circus is a culminating, appropriate rite of passage for the kindergarteners as they say farewell to Chilton House. The students choose their roles, develop their acts, and collaborate. Alumni remember their roles in the circus for years to come.
Lyrics to the Kindergarten Circus song "A Circus Isn't a Circus":
Oh a circus isn't a circus without a big parade
Without a big parade
Without a big parade
Oh, there may be cotton candy and a lot of lemonade,
But, a circus isn't a circus without a big parade.
Oh, a circus isn't a circus without a tweedle dee dee
Oh, there may be lots of monkeys and a big calliope
But, a circus isn't a circus without a tweedle dee dee
Oh, a circus isn't a circus without a rat-a-tat-tat
Oh, there may be scary tigers and a daring acrobat
But, a circus isn't a circus without a rat-a-tat-tat
Kindergarten Flashlight Picnic
This event is a way of welcoming parents and students to participate collectively in the Book Fair & Storytelling Festival. Families are invited to eat picnic-style together. After which, the students use flashlights they made to illuminate the pathways up to the Peter Lawrence Gymkhana, where the annual Book Fair is held.
Kindergarten Post Office
Set up in the hallways of Chilton House during February, the post office allows children to bring a real-world profession to life by collecting, sorting, stamping, and delivering mail in the building.
Little School Celebration
This concert for Little School students celebrates the joyful ending of the school year with singing, dancing, and instrumental music.
Mary Hawkins STEAM Fair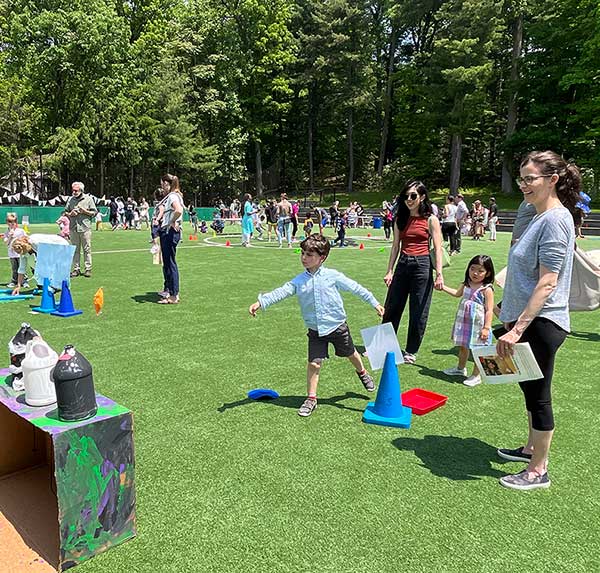 Using simple ideas and materials, children in the early childhood division transform our Community Field into a fun-filled carnival. The event is named after a long-tenured EMS teacher who was a passionate advocate for the importance of play in children's lives.
Morrow House Cocoa and Skating Party
Morrow House Orientation Day
Morrow House Winter Leadership Workshop
Peter Rabbit Assembly
The Peter Rabbit Assembly started in the 1970s with a former teacher who integrated music about the beloved Beatrix Potter character into what has now become a first-grade cross-curricular study and exciting performance for families and students alike.
Watermelon Picnic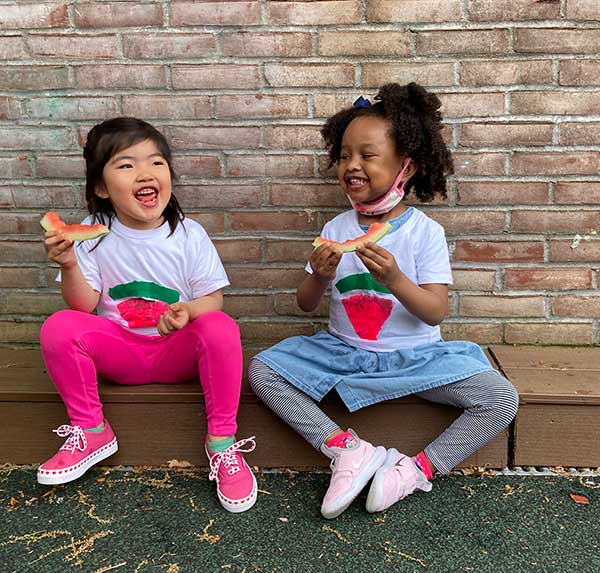 This picnic is an end-of-the-year celebration for students in Chilton House. The children gather together with the entire building to celebrate their achievements and enjoy this delicious summer treat.
Welcome Breakfast
Organized by the Parents Association, this event is held in the first week of the school year and invites parents to the Cohen Center to welcome our community back to school. Attendees hear from administration and Parent Association leadership about the many opportunities to volunteer, as well as upcoming events and initiatives.
Winter Arts Festival
These concerts, in both Morrow House and Little school, are held before Winter Break and celebrate holidays throughout the world.