In our increasingly uncertain world, EMS is honored to be entrusted with providing a safe and secure environment for the hundreds of students, faculty, and staff who walk our halls and grounds each school day.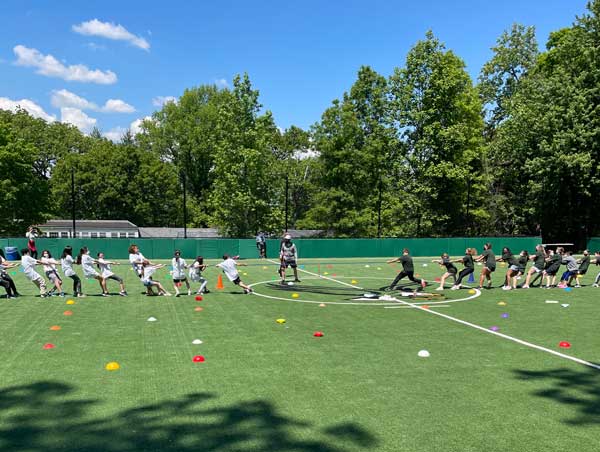 The safety and security of the campus community are paramount for our Board of Trustees and Operations Team, who evaluate our campus health and safety protocols on an ongoing basis. Families are our partners in keeping children safe, and we work to keep them informed of concerns, changes to protocols, and what to be aware of in the home environment.
Dedicated Facilities and Operations personnel are responsible for the management of campus safety and security, as well as maintaining a relationship with local law enforcement, who are often visible on campus during the school year while on routine area patrols.
Since the beginning of the COVID-19 pandemic, EMS has met or exceeded guidance from the U.S. Denters for Disease Control and Prevention (CDC), the New Jersey Department of Education, and the New Jersey Department of Health.
Every day, basic security is anything but basic at EMS.
The EMS campus offers some insularity because of the size of its 14-acre campus. While students experience growing independence and responsibility as they age, our campus is closed and has an excellent student-to-educator ratio, ensuring there will always be staff in proximity.
Drop off and pick up are well-managed processes involving staff.
At any point in time, we know if there are visitors on campus and where they are.
Parking
Parking in and around campus can be challenging, but with everyone's assistance, we can manage it effectively. The town of Englewood is responsible for maintaining the streets and is authorized to ticket and tow vehicles. When visiting the campus, it is extremely important that you park in a designated area.
When visiting the Admissions Office, please park in the Lydecker Street parking lot (on the corner of Speer Avenue and Lydecker Street). The Admissions Office is located in the Early Learning building (Chilton House, Age 2–Kindergarten), which is on the right side as you walk up the path. Guest parking is available at the far end of the parking lot.
When visiting our middle school (Morrow House, Grades 5–8), please continue on Lydecker Street, up the hill (Lydecker Street changes to Next Day Hill Drive). Morrow House is located on the right-hand side at 480 Next Day Hill Drive. Street parking is available during most times around arrival and dismissal on Next Day Hill Court, located across from the Morrow House driveway.
Visitors Policy
For the safety of The Elisabeth Morrow School community, visitors are only permitted on campus after receiving authorization from the school and will need to present their photo ID and scan their personal visitor's QR code on arrival. Visitors must check in at the front desk of the division that has arranged for their temporary access.
There are no pets allowed on any of our campuses. Additionally, there are no firearms allowed on any of our campuses. Please keep in mind that these policies are in place for the safety of our students.
who should parent or guardian connect with regarding any health or safety concerns?
For a campus or community health or safety concern, contact the EMS Health and Safety Team. For concerns about bullying, theft, substances, etc., reach out to your child's teacher or a division head immediately.