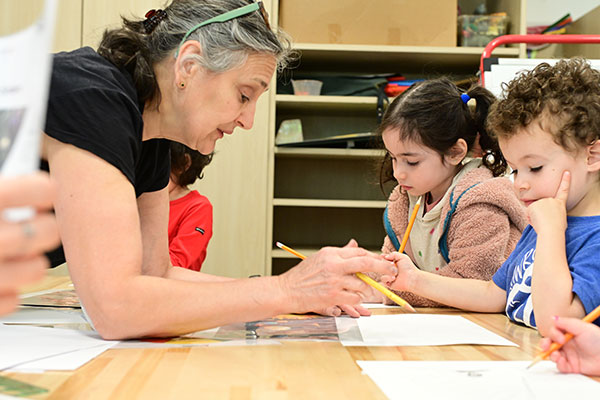 THE FIRST YEARS OF A CHILD'S LIFE PROVIDE THE FOUNDATION FOR A LOVE OF LEARNING.
Our Early Learning program celebrates children's intellectual potential at a time when they can learn and socialize in an environment designed for discovery, empowerment, collaboration, and problem-solving. Chilton House students are just beginning to understand who they are as learners, as friends, as problem-solvers, and as community members. Every child at EMS is known, and our youngest learners feel a deep sense of belonging — which inspires them to work to their potential and to show kindness and respect to their teachers and classmates. Families who start early with EMS establish a deep and supportive connection to our community that its members continue to nurture long after students graduate.
For our youngest students, discovery is everywhere.
We introduce our young learners to diverse materials and projects that foster process-based problem-solving, and we engage them in a variety of performing, visual, and musical arts experiences. They explore creative expression through multi-dimensional projects such as painting, drawing, printmaking, collaging, sculpting, pattern-making, and fiber arts, while activities, such as block-building — a critical element of learning in all grades, blend design with scientific and mathematical concepts such as balance, symmetry, mass, and angles.
Chilton House students regularly engage in various singing, music, and movement activities, including a weekly sing-along. Teachers encourage and celebrate the exploration of basic elements of music, such as beat, tempo, and timbre, and students play and care for a variety of musical instruments. These musical experiences lay the groundwork for the highly revered EMS music program, which begins in Little School (Grades 1–4).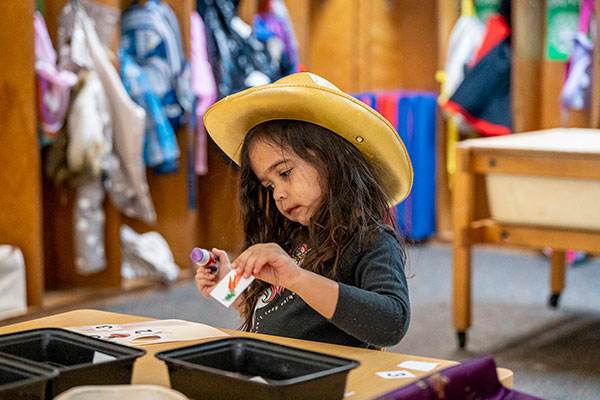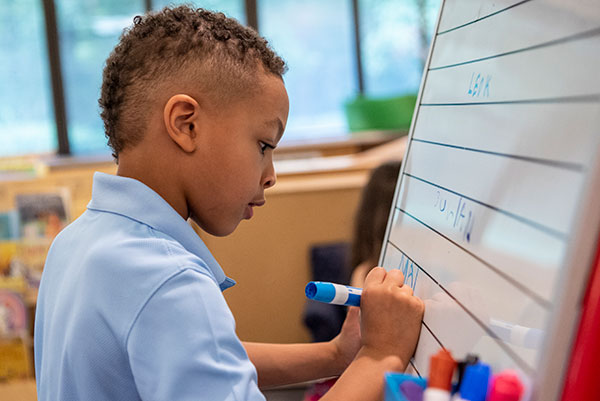 KINDERGARTEN IS a key PART OF OUR EARLY LEARNING DIVISION at THE ELISABETH MORROW SCHOOL.
Kindergarten, in many ways, is a bridge year, during which children learn in a more structured academic setting but are still benefiting greatly from the kind of hands-on, play-based approach that our Early Learning program offers.
Lessons learned in the 2s program provide the groundwork for the 3s/4s program, which then prepares young learners for success in Kindergarten — each year setting the stage for the next and equally critical and experientially and developmentally unique. When viewed on a continuum, all of the years in Chilton House will equip our students to succeed academically, socially, and emotionally, and support them in developing the habits of mind they will need throughout their lives.