Music at The Elisabeth Morrow School
About Music at EMS
Studies have shown that participating in music at a young age can help improve a child's learning ability and memory by stimulating different patterns of brain development. Students first engage with music through song, explore the elements of music, such as beat, tempo, dynamics, and timbre, and learn about different musical instruments and how to care for them.
The music curriculum in Little School, which uses Kodály, Orff, and Dalcroze techniques, is designed to foster a love of music and develop students' musical and performance skills, with a focus on singing and vocal technique, eurythmics, creative movement, and vocal and instrumental improvisation. Students begin the instrumental music program in third grade and take group lessons taught three times per week. They study music theory, sight-reading, and notation and have the opportunity to perform in several ensembles.
In fifth and sixth grades, students learn about tone, enunciation, musical and lyrical analysis, sight-singing, ear training, and harmony through participation in the EMS Show Choir. They also begin their large ensemble experience in the orchestra. In seventh and eighth grades, we integrate music theory and music history with the curriculum. Students perform in festivals in the winter and spring and may join one or several of the different performance groups, including orchestra, chamber orchestra, stage band, rock band, show choir.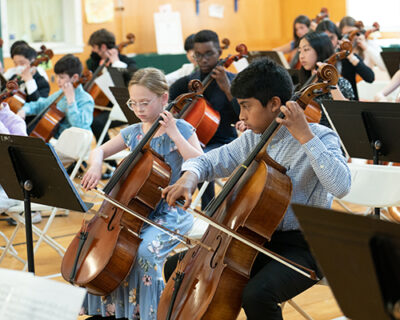 EMS prepares students for an impressive range of top-tier secondary schools.
Our students cultivate the ability to learn, think, explore, empathize, and lead. They graduate with the ability, mindset, and competencies to navigate a global world and are well-prepared to face an unknowable future.
EMS students are accustomed to a rigorous academic environment and welcome the demands of competitive secondary schools. They are often placed in advanced sections where they perform very well.
Your child would thrive at EMS. Schedule a time to talk to someone about joining our community.