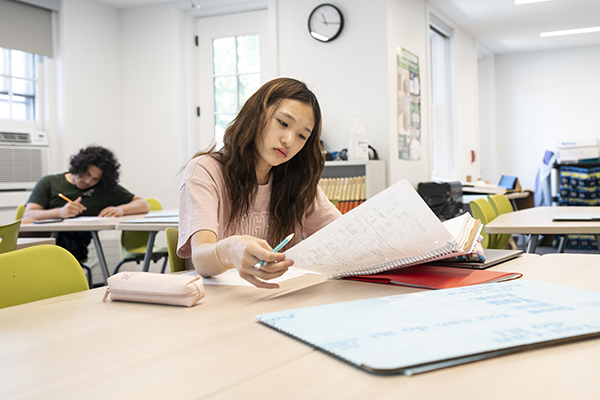 At EMS, we balance social and emotional growth and academic rigor.
The school environment is engineered to build confidence and self-awareness in our students. Our students see risk as an opportunity to learn. Their ideas are valued, and our students can put what they learn to use, develop a deep sense of themselves, and discover passions that will become the underpinning of a fulfilling life.
Our Principles and Philosophy
Academic Rigor
We have high expectations and challenge students to reach their full potential.
Support
We help students develop independence and habits essential for future success.
Flexibility
We offer a curriculum that allows children to dive deeper into topics that interest them.
STEAM
We provide innovative programming in science, technology, engineering, the arts, and mathematics.
Humanities
Students explore themselves and the world around them through multiple perspectives.
Music
Our nationally renowned instrumental music program provides myriad options for the avid (or aspiring) musician.
Social and Emotional Learning
Students recognize and manage emotions, set and achieve goals, show empathy to others, and make responsible decisions.
Library Science and Media Studies
A robust interdisciplinary curriculum supports research and learning inside and outside the classroom.
Physical Education
Students develop healthy lifestyle habits through a variety of fitness, sport, and rhythmic activities both during and after school.
Visual Art
Campus activities foster visual awareness, imaginative thinking, and creative expression.
Community
Every member of The Elisabeth Morrow School family is valued, from students to faculty and staff to parents and guardians and beyond.
Gardening
Children actively engage in hands-on activities that support the concept of sustainability.