The Elisabeth Morrow School offers TRANSPORTATION between our campus and Neighborhoods in new jersey and new york city.
We offer pick-up and drop-off in the following areas of New Jersey: Fort Lee, Edgewater, Cliffside Park, Weehawken, West New York, Guttenberg, and North Bergen. We also offer transportation between our campus and the following NYC neighborhoods: Upper West Side, Upper East Side, Washington Heights, and Hudson Heights.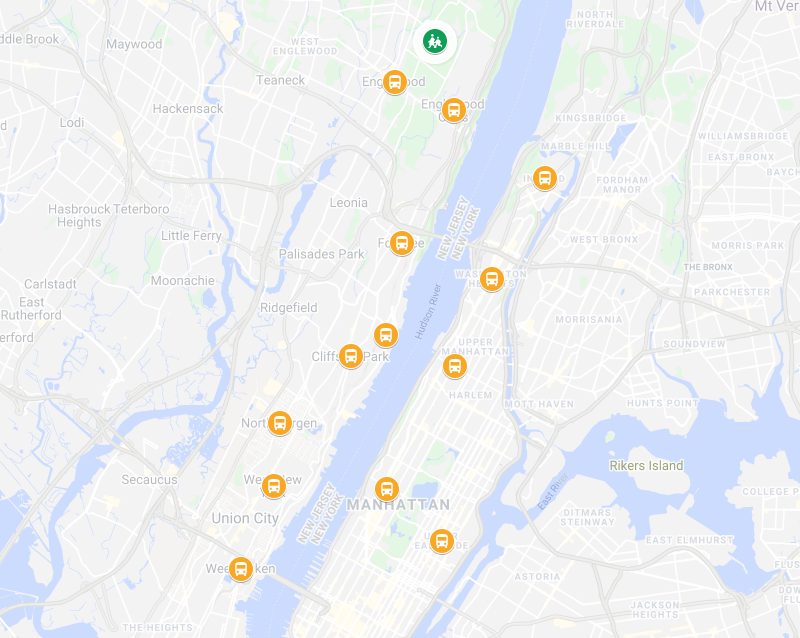 School-Provided Transportation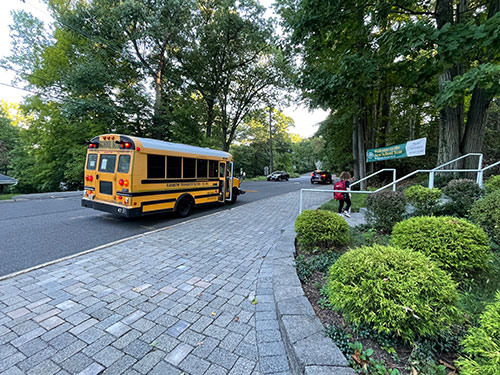 The Elisabeth Morrow School offers bus transportation to and from campus.
To accommodate the many neighborhoods our students come from while minimizing their travel time, the school is able to offer bus transportation to families by request in areas where The Elisabeth Morrow School and service providers are able to establish viable routes.
A bus aide monitors students on each daily bus route so the driver may focus on the road and traffic. Approved car seats for younger riders are available for use at the request of parents or guardians.
Routes may only be established where families show sufficient interest to support a route.
Bus routes may include door-to-door and common stop service using 24-passenger buses from our service provider(s). The bus company determines the number of common stops and their locations, with every effort to make them convenient and accessible to all riders along the route. Common stops allow us to serve more families while shortening travel time as compared to door-to-door service.
Pick-up times may vary for final routes depending on final ridership.
Promptly after the registration deadline, the service provider determines bus routes for the year and sets morning pick-up times based on the number of riders and the location of each pick-up.
The bus arrives on campus by 7:55 a.m. and departs in the afternoon after regular dismissals have been completed.
Late bus service will be available for students participating in sports and other after-school activities.
Daily late service boards between 4:45 and 5 p.m. for a prompt departure at 5:15 p.m. Late services do not include bus aides.
Parents and guardians may easily report the need for late service on a daily or recurring basis via the school's attendance app, SchoolPass. If no families have indicated a need for late service by 12 p.m. each day, late bus service for that day will be canceled.
EMS uses the Glympse app for GPS bus tracking.
Each morning and afternoon, the bus aide will share tracking data with registered users through the Glympse app.
Requesting Transportation
April 17: EMS shared preliminary routes with families who have expressed interest
May 19: Signed bus contracts must be returned to EMS
June 30: Final routes are confirmed
To request transportation services for the following school year, families must submit the Transportation Inquiry Form included with the initial enrollment and annual re-enrollment contracts.
EMS will work with our transportation providers to establish routes and determine the cost based on the interest of the number and locations of enrolled families, as well as the availability of vehicles and staff. When seating is limited, seats will be given priority based on the order in which signed contracts are received.
While EMS will make every effort to keep routes efficient, we cannot guarantee the start time of a route and the overall time to and from campus due to variables in ridership and riders' proximity to other riders. In addition, EMS cannot guarantee that a route will be provided for every request. Routes are created and developed based on a minimum number of riders.
After the deadlines, additional seating on established routes will be offered to families contingent upon availability. Service for new students will be supported and additional requests on established routes will be made as they may be accommodated. To request transportation during the current school year, EMS families must complete our Mid-Year Transportation Inquiry Form.
Costs for 2023–2024
| | | | |
| --- | --- | --- | --- |
| | New Jersey | New York | |
| Round Trip | $4,750 | $5,900 | |
Families who sign-up for school-provided transportation must commit to the full school year so that the bus company can establish routes and pick-up times. Each family who elects to use school-provided transportation will be billed for the entire school year in October. Deposits are requirements for transportation requests to improve our ability to identify interests and develop final routes more quickly. When a bus route is not able to be developed for a family request, transportation deposits will be refunded.
Families who live in New Jersey are encouraged to contact the transportation department in their district to find out if they qualify for reimbursement for school-provided transportation. To be reimbursed each year that they participate in the qualifying transportation option, families must submit the B6T Form to transportation@elisabethmorrow.org for verification of enrollment.
Families with financial assistance will receive a discount consistent with the percentage of aid they receive.
Rideshare Transportation
Where a bus route is not possible, EMS will work with a rideshare service, RideAlongNow, to develop an alternative transportation option. EMS will establish a route and a rate offering; families may opt into a contract directly with RideAlongNow if the solution is appropriate for their child(ren).
How do I submit a late request to RideAlongNow?
Send an email to clientsupport@ridealongnow.com before 5 p.m. on the Tuesday of the week prior to the requested late service. For example, requests for the week beginning with Monday, Nov. 21, would need to be submitted by 5 p.m. on Tuesday, Nov. 15.
Can I make same-week requests for RideAlongNow?
Due to the notice required to schedule drivers, RideAlongNow is unable to accommodate requests submitted after the deadline for the upcoming week. Should you need last-minute arrangements, consider connecting with fellow EMS families through the CarpooltoSchool app.
Must requests to RideAlongNow be made by email?
Yes, RAN can only accommodate requests submitted by email. At this time, they are unable to support requests through WhatsApp.
How do I schedule recurring requests for late service with RideAlongNow?
Late service requests must be submitted weekly, even for recurring requests. This ensures that RideAlongNow can schedule drivers using the most up-to-date information.