The Elisabeth Morrow School is governed by a self-perpetuating Board of Trustees who plans, develops, and establishes policy and assesses the performance of the school in regard to its mission and philosophy. The Board also oversees the school's financial health and physical plant, setting tuition and initiating capital campaigns. The Board is additionally responsible for the selection of the Head of School, who is charged with the implementation of policy and the day-to-day operations of the school.
A Note from the President of the Board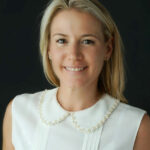 When I look back at my time as a student at The Elisabeth Morrow School, I am filled with warm memories of happiness, delight, excitement, pride, and accomplishment. Each new day held the promise to discover something new alongside teachers and friends inside and outside of the classroom. I didn't realize it then, but the EMS environment made it safe to take risks and instilled a desire to learn. The staff and faculty intentionally cultivate this setting by recognizing each student's unique interests and talents, channeling these to fully engage them in academics and community participation.
As a parent to Matthew '27 & Benjamin '30, I can appreciate the seamless and natural way in which the same strong foundation is being built for them. It's truly a privilege to give our kids the opportunity to be children while at the same time igniting their desire to learn. At EMS, our students are valued and engaged, which builds confidence and provides endless possibilities to become well-rounded global citizens and curious lifelong scholars.
There is not a day that goes by when I don't use my lessons from EMS. Holding open a door, a firm handshake, a warm welcome, and not only being considerate of others but of others' perspectives. While the world continues to evolve, these simple acts learned through the 4 C's will always remain relevant and important.
Many of us hold a special place in our hearts for this remarkable school, and it is a privilege to be a part of it as a parent, an alumnus, a community member, and a board member. It is an honor to help govern this precious institution alongside my fellow trustees and to ensure its sustainability for future generations.
Warm regards,

Elizabeth Gabbay '93
President of the Board of Trustees
Executive Committee
Elizabeth Gabbay '93, President
Dana Ranawat, First Vice President
Robin Dillard, Second Vice President
Oliver Lennox, Treasurer
Candace Gonzalez '94, Secretary
Jason Kim
Board Members
Lauren Apgar
Simona Korik-Barrett, DO
Heesun Lho '98
Jamil Myrie
Jennifer Ostfeld
Lillian Pien
Jeffrey Rowbottom
Alfonso Waller, MD

Trustees Emeriti
Sandra Borg*
Graham Jones
Emily Mann
Rosemary Mills Russell
Jayanne Tedesco
Joan Van Alstyne Johnson '34*
William Van Ness
Hanita Walia
Frank Zhang

Updated July 2023
*indicates a deceased member