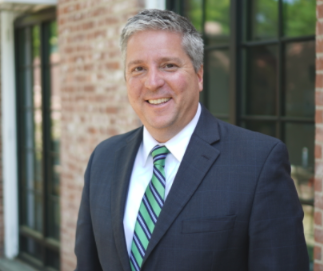 Whether you're a parent, student, or faculty or staff member, you'll find that you're joining a very special family. When I was searching for my best fit in a school, I wanted to find a community that shared my values, where I could fully invest myself and the experiences and ideas that I have to offer. It was clear to me, from the mission statement to the vision statement, that EMS embodies who I am as a person, a parent, an educator, and a leader. I hope you find that this unique institution represents you and your ideas, as well.
At The Elisabeth Morrow School, we aspire daily to live by the 4 C's — courtesy, consideration, cooperation, and compassion. And the 4 C's are not just for the students; they're for the faculty, the staff, the families — every member of the community. The world we live in requires more attention to developing integrity, personal character, and social-emotional learning, particularly as we come out of the global pandemic we've been facing for the last year and a half.
Something I've learned through more than 25 years in education and my experiences as a parent of school-aged children is that the "whole child" matters more than any singular program or resource. When we talk about the "whole child" at EMS, we mean understanding each child's unique identity and how it fits into the world around them. When a child feels safe, known, valued, and celebrated and when they're engaged, empowered, and have agency, they can then go on to meet their full potential. This understanding is consistent throughout the leadership, faculty, and staff at The Elisabeth Morrow School and is evident in every conversation.
No other school comes close to offering what we have at this remarkably special place. I'm grateful to be your Head of School, and I am incredibly excited for all that we can accomplish together.
Sincerely,
Marek Beck, Ph.D.
Head of School