Kids Need Summer More Than Ever Before!
Knowing that in-person learning is what is best for students, we worked tirelessly last spring and summer to come up with a plan for our students. We looked at ways that we could bring our learning community back together and what we needed to make that happen.
Low class size, cohort grouping, daily health screenings, weekly testing, use of PPE, handwashing, social distancing, and state-of-the-art HEPA air filtration are just a few of the safety measures that we use to meet and exceed CDC guidelines and help keep our community safe. These same safety measures will continue during Summer Explorations 2021. Plus, our beautiful 14-acre campus provides plenty of outside spaces for extended learning and recreational activities!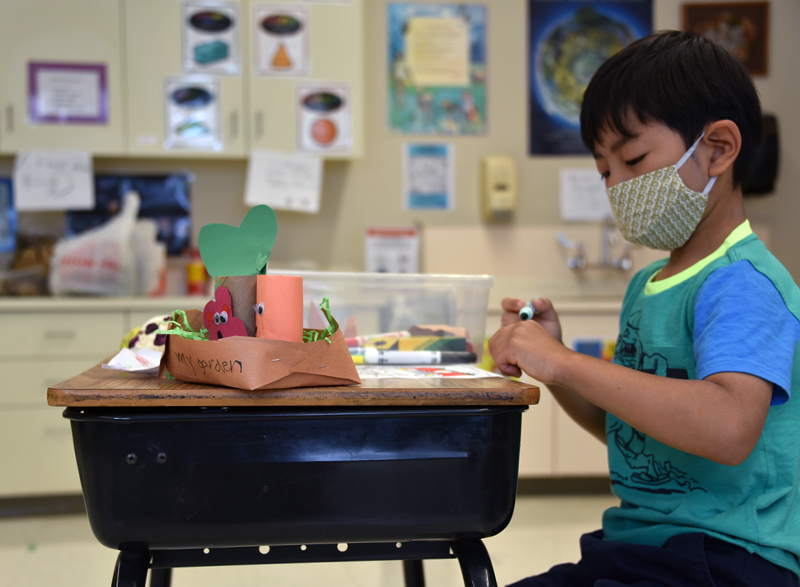 Starting June 28 through August 6, Summer Explorations will offer six-weeks of programming for students age 2 through grade 9. With a wide variety of exciting enrichment programs, hands-on activities, and creative learning opportunities, our students will have the chance to be together with their peers and make connections that have been lacking for some during the school year.
What to Expect
Our Early Childhood Program will feature specialized theme weeks, such as "Get Ready to Build," "Smart Art," and "Invention Convention," that will allow students to work cooperatively on developmentally appropriate activities.

Students in grades 2–6 will choose two morning workshops in different areas, such as science, art, technology, sports, nature exploration, drama, and more.

Afternoon activities are chosen daily by the students to help them gain experiences in different areas of interest.

Our oldest students take part in a Leaders-in-Training program to help develop their skills in communication and problem-solving, through team building activities and community service-oriented options.
Summer Explorations is open to all students. We look forward to welcoming you and your families this summer! Spaces are limited so don't delay.

See Summer Explorations 2021 program information and registration >
For a musical summer option, also check out the Summer String Festival >
There's No Better Time to Support Your Child's Education
Every time you donate to one of Elisabeth Morrow's dedicated funds, you help enrich the daily experiences of our community on campus. STEAM spaces are improved, library catalogues expanded, scholarships are funded, and teachers are hired. Every day, you can see the impact your generous donations have on campus.