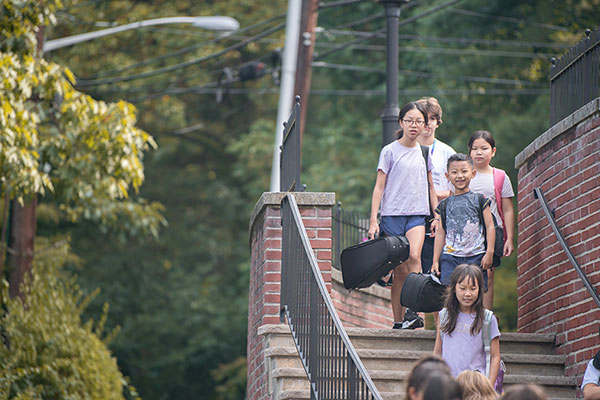 A Day Full of Music and Friends
Students are dropped off at EMS — 480 Next Day Hill Drive, Englewood, N.J. — with their instruments, music, and lunches.
The morning begins with an all-festival warm-up at 9 a.m. with students separated by orchestra/Suzuki group. Students then move into their sectionals based on levels or orchestra rehearsals for group rehearsals. Throughout the day, students participate in art, theater, sports, dance, and tie-dye electives. Students also engage with dynamic guest artists from a variety of backgrounds including national and world orchestras, world-renowned soloists, and Broadway artists. Two daily snacks are provided.
The Activities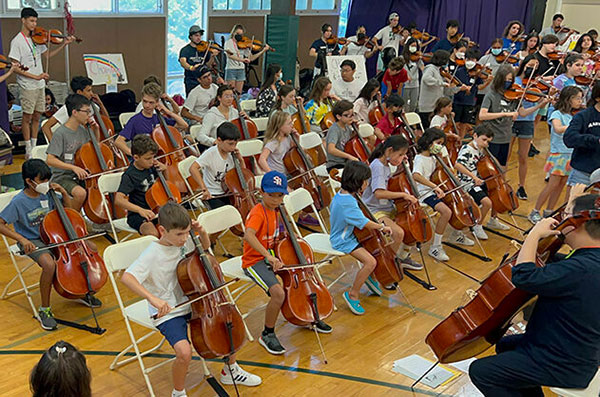 Festival Warm-Up (all students)
The entire festival joins together each morning to get everyone connected and energized through playing scales and arpeggios while performing activities like jumping jacks and sit-ups. It is a mix of fun and intense music learning.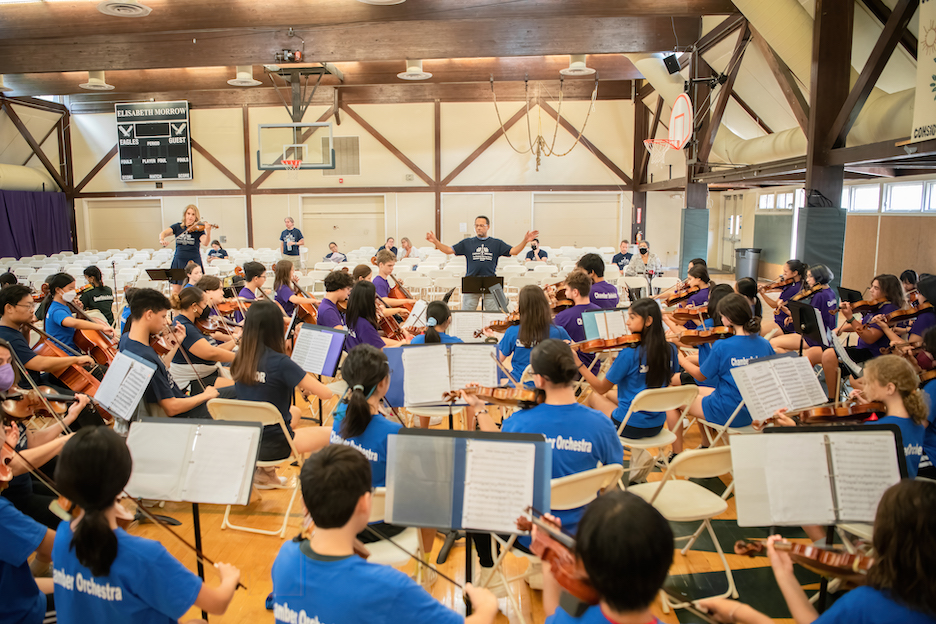 Orchestra
Each orchestra rehearses daily. In addition, participants practice together in small groups of eight to 16 students called sectionals. They work on the individual parts of their music to improve the overall quality of the orchestra.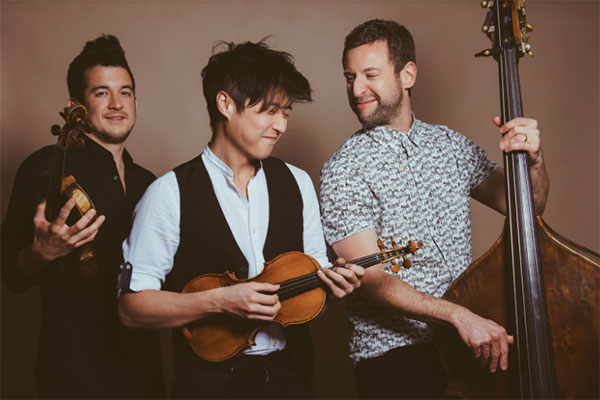 Guest Artist Performance (all students)
Performing musicians give workshops varying from jazz to klezmer to classical and rock music. All participants meet and work with the guest artists and are inspired by hearing music in a new and exciting way.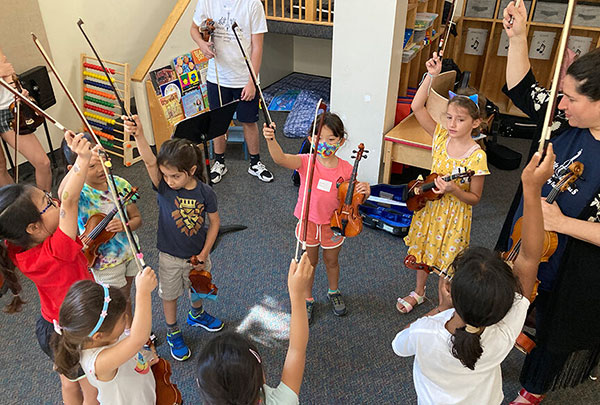 Supervised Practice (all students)
Music faculty and counselors, all of whom are string players, assist participants in daily practice sessions.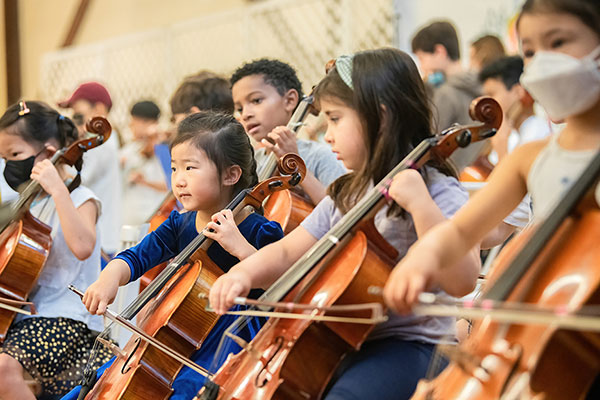 Junior Ensemble (for younger students)
Students practice and perform new pieces and previously learned pieces from the Suzuki Method books numbers one through three and/or the duet repertoire.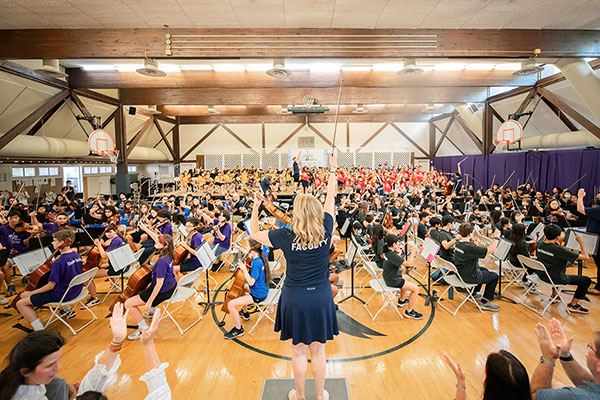 THE GALA CONCERT (ALL STUDENTS)
The EMS Summer String Festival concludes with a gala concert that showcases all four orchestras, as well as the junior violin and junior cello ensembles. The program finale includes a performance of "Canon in D" by Pachelbel, played by all the students, counselors, and teachers.
Sample Orchestra Schedule
| | |
| --- | --- |
| 8:30–8:55 a.m. | Arrival |
| 9–9:20 a.m. | SSF Warm-up |
| 9:30–10:10 a.m. | Orchestra Sectionals |
| 10:15–10:35 a.m. | Snack |
| 10:45–11:25 a.m. | Specials |
| 11:35 a.m.–12:15 p.m. | Orchestra Rehearsal |
| 12:20–12:50 p.m. | Lunch |
| 12:55–1:25 p.m. | Elective/Recess |
| 1:35–2:15 p.m. | Guest Artist/Supervised Practice |
| 2:20–3 p.m. | Elective Sign-ups Art/Drama/Sports |
| 3:05 p.m. | Camp Meeting |
| 3:15– 3:25 p.m. | Car Dismissal |
Sample Junior Violin/Cello Ensemble Schedule
| | |
| --- | --- |
| 8:30–8:55 a.m. | Arrival |
| 9–9:20 a.m. | SSF Warm-up |
| 9:30–10:10 a.m. | Festival Suzuki Class |
| 10:15–10:35 a.m. | Snack |
| 10:45–11:25 a.m. | Drama/Music Theater/Sports |
| 11:35 a.m.–12:15 p.m. | Canon Class |
| 12:20–12:50 p.m. | Lunch |
| 12:55–1:25 p.m. | Elective/Recess |
| 1:35–2:15 p.m. | Guest Artist/Suzuki Class |
| 2:20–3 p.m. | Elective Sign-ups Art/Drama/Sports |
| 3:05 p.m. | Dismissal |
Contact Summer String Festival
Email summerstringfestival@elisabethmorrow.org, or call 201-568-5566, ext. 7111