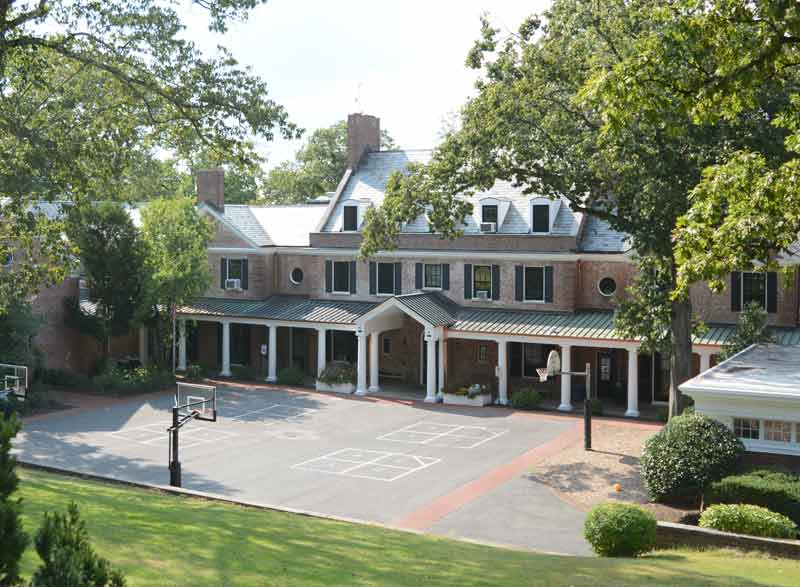 The Elisabeth Morrow School is committed to enrolling the most qualified students, regardless of financial circumstances.
One in four students receives some form of need-based financial aid. Tuition assistance is awarded on the basis of financial need and is distributed as equitably as possible based on an analysis of each family's income, assets, and other relevant financial criteria. ​​While we try to be as generous as possible, we maintain that each family bears the primary responsibility for financing a student's education costs. As such, we expect that each family will fund the child's education to the extent that they are able and our financial aid program is designed to assist families after they have considered all of their own resources. This expectation is in keeping with the National Association of Independent Schools (NAIS) Principles of Good Practice.
Applying for Financial Aid
Admission and tuition assistance decisions are made independently of each other, but the process happens simultaneously. Immediately upon completing the Ravenna application for admission, complete and submit the TADS School Portal Financial Aid Application with supporting documentation listed below:
Household members' most recently completed federal tax forms (personal and business-owned)
W-2s from each job held by household members
Most recent pay stub from each job held by household members
Documents that establish the amount of additional monthly or yearly income you currently receive
Additional documents may be required depending on your family's circumstances
Deadlines:
Sept. 15 — TADS School Portal financial aid application for the next academic year becomes available.
Jan. 9 — The financial aid application is due; applications may be filed even if taxes are not complete.
April 15 — Final prior-year tax forms must be filed with TADS School Portal.
Applications received after the deadline will be considered on an individual basis. Please note that if you don't receive financial aid in your child's initial year, you will need to wait two years before applying again as it can be difficult to allocate financial aid in our budget once we have already committed support to families. We will strive to make exceptions in the event of any unforeseen hardships that result in a significant change in a family's available income or assets.
Financial assistance decisions are awarded upon acceptance.
Frequently Asked Questions
Who is eligible to apply for financial assistance?
EMS will consider all families who have demonstrated financial need. Financial need is defined as the difference between what it costs to attend EMS and a family's demonstrated ability to pay. Requests for tuition assistance must be indicated at the time of application for admission.
How will my financial assistance award be determined?
TADS School Portal collects the family's financial information on our behalf and makes a recommendation for a financial assistance award. The EMS Financial Assistance Committee evaluates each family's recommended award based on the demonstrated financial need of a family and the school's budgetary constraints.
Will my financial assistance award be renewed each year automatically?
Families that enter EMS on tuition assistance will remain on tuition assistance unless there is a change in the family's financial situation.
How do I request financial assistance for multiple children?
Parents need to file only one TADS School Portal application in the name of the oldest child applying to or attending EMS and should list the other children in the proper place on the TADS School Portal Financial Aid Application. The Financial Assistance Committee will consider all children in the household when making tuition assistance determinations.
What is the process for parents who are divorced or separated?
EMS holds both parents financially responsible for their child's education and is not bound by any divorce/support agreement specifying a parent's responsibility for educational expenses, or any assertion that one parent has disclaimed, legally or otherwise, any responsibility for educational expenses. The Financial Assistance Committee will consider the assets of both parents if living. If either parent has remarried, the committee will also consider the income and assets of the stepparent. In light of this policy, both parents must fill out separate TADS School Portal Financial Aid Applications in order for the student to be considered for financial assistance.
What if I have not filed taxes prior to the financial assistance deadline?
In most cases, current Income Tax Returns will not be prepared by our application deadline. We, therefore, ask you to estimate your tax information on the TADS School Portal application and submit your Form 1040 by April 15 to TADS School Portal. If there is a significant discrepancy between your estimate and the actual amounts, the committee will reevaluate and potentially revise your financial assistance award.
Can I receive a waiver for the TADS School Portal fee?
If you are unable to pay the TADS School Portal application fee due to financial hardship, please contact Caitlin Read, Director of Enrollment Management, at 201-568-5566 ext. 7212. Please note that we have a limited number of waivers available, and it is, therefore, not possible to honor every request.
What if I still have questions about the admissions or financial aid process?
The partnership between home and school is a hallmark of the EMS experience, and it begins during the admissions process. We want to get to know your child and family in order to provide an experience that meets your specific needs and to support you throughout the process. It is by learning about your aspirations for your child and their interests and abilities that we are able to explore the specific ways that EMS will enable your child to thrive intellectually, physically, socially, emotionally, and artistically within a supportive and rigorous environment.