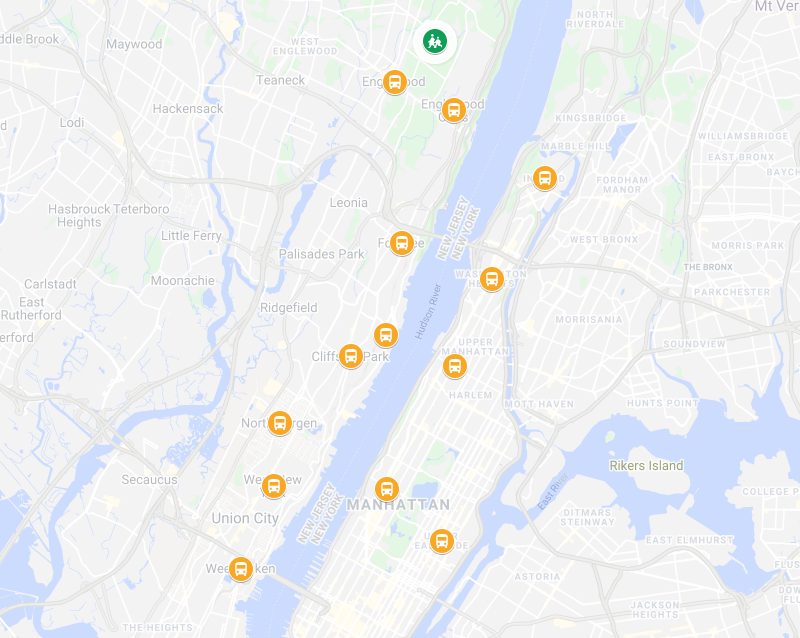 The Elisabeth Morrow School offers bus service between our campus and Neighborhoods in new jersey and new york city.
We offer pick-up and dropoff in the following areas along the Hudson River — Fort Lee, Edgewater, Cliffside Park, Weehawken, West New York, Guttenberg, and North Bergen. We also offer bus service between our campus and the Upper West Side, Upper East Side, Washington Heights, and Hudson Heights.
We provide door-to-door service using 15–24-passenger buses from Rainbow Transportation, Inc. A bus monitor assists students on each bus so the driver may focus on the road and traffic. Approved car seats for younger riders are available for use at the request of parents or guardians. 
When registering, families may select roundtrip, morning-only, or afternoon-only transportation for the school year (September–June). Promptly after the registration deadline, Rainbow Transportation determines bus routes for the year and sets morning pick-up times based on the number of riders and the location of each pick-up.
The bus arrives on campus by 7:50 a.m. Early Care is available starting at 7:30 a.m. for all students.
Questions About Transportation
Where and when can students pick up the EMS bus?
We offer round-trip transportation to the following locations: Upper East Side, Washington Heights, Hudson Heights and parts of Inwood, Upper West Side, West Harlem, Fort Lee and Edgewater, West New York, Weehawken, Cliffside Park, North Bergen, West New York, and Guttenberg. Pick-up times vary but range from 6:30–6:55 a.m.
What is the bus experience like?
We are able to offer door-to-door transportation for many of our students, who fit two to a seat in comfortable yellow buses with 15-24 passengers. There's often room to spare. Each bus has an aide who ensures that students comply with our health and safety protocols so our driver can focus on the trip. There are seat belts in each row, and car seats are available for younger riders if needed.
The buses drop students off at their respective divisions (Chilton House, Age 2–Kindergarten; Little School, Grades 1–4; or Morrow House, Grades 5–8) on time, so students never feel rushed and can socialize before class begins.
At the end of the school day, bus-riding Chilton House students are brought to their respective buses on Lydecker Street. Little School bus students are sent to their respective buses after they have checked in with the teacher on bus duty and then check-in with the teacher on bus duty on Lydecker Street, who places each student on the correct bus.
After Chilton House and Little School students get on the bus, the bus picks up the Morrow House riders from Next Day Hill Drive. We also offer a late bus to NYC families that departs at 4:30 p.m. on Tuesdays, Wednesdays, and Thursdays.
Do parents need to be present?
A parent or guardian should be present to assist children with getting on the bus and to receive children at dropoff in the afternoon. Middle school students may be given permission from a parent or guardian to be dropped off without a caretaker present or released to the doorman at their residence. All Chilton House and Little School students should be received by a parent- or guardian-approved adult caretaker.
Are there adults on the bus? Who is responsible for the children?
Each of the four routes has a driver and a bus monitor. The monitor tends to the needs of the students and helps ensure safe behavior as the driver operates the bus. The monitor is also in contact with parents to let them know of delays or other pertinent information while the bus is en route with students.
Families may track the bus using Glympse, a GPS app that provides the bus location in real-time. Families will also have the bus monitor's contact information.
How long does it take?
Travel times vary. Our earliest pick-up is at 6:30 a.m. and students arrive on campus by 7:50 a.m. Some buses, typically the N.J. routes, may arrive a bit earlier. Children who arrive early go straight to Early Care.
What is the cost of using the bus option? Do you have to commit to a whole semester?
NYC one way: $3,000
NYC round trip: $5,000
New Jersey one way: $2,500
New Jersey round trip: $4,000
Families receiving financial assistance will receive a discount consistent with the percentage of aid they receive.
Families who sign-up for the bus must decide whether they would like round-trip or one-way transportation and must commit to bus service for the full school year in the fall so that the bus company can establish routes and pick-up times. Each family who opts into bus transportation will be billed for the entire school year in October.
What if my child misses the bus?
If a child misses the bus, the parent is responsible for getting the child to school. The bus isn't allowed to circle back as it delays the other riders and can cause them to miss their first scheduled class. Riders are asked to give themselves a 5-minute window of time so that they are ready when the bus arrives.
If I have additional questions about the buses, who should I contact?