Dates
The Elisabeth Morrow Summer String Festival has one session, August 8–12, 2022. Monday-Friday, each day runs from 8:30 a.m.–3:15 p.m. and culminates in the Festival on August 12.  The weeklong session takes place at The Elisabeth Morrow School in Englewood, NJ, and is open to children age 4–grade 8.
Tuition and Fees
Tuition for each student is $800 for the full session, regardless of age. There is a non-refundable $75 application and audition fee, included in the tuition. Additionally, there is a $250 charge per child for families that choose to take the Academy Bus from Manhattan to campus and back each day.
Tuition Aid
The Summer String Festival offers need-based tuition aid supported by private donors and foundations.
To complete your tuition aid application, please send a copy of your family's most recent IRS Form 1040 and W2. These forms must be submitted by Friday, April 15, so the tuition aid committee can process your application.
Please email to: Millie Castano at mcastano@elisabethmorrow.org
Tuition aid awards are based solely on the family's financial resources. Tuition aid funds are limited, so it is important to apply early. Tuition aid awards will be announced by email by Friday, April 29.
refunds
The deadline for refunds is Friday, July 1, 2022.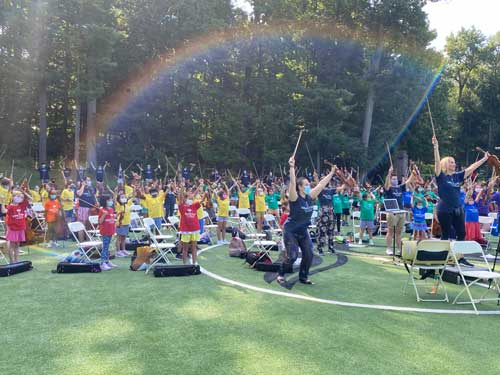 COVID-19 health policy
To align with COVID-19 protocols this year, we are planning to present the gala concert as two in-person on-campus performances: one on Thursday afternoon and one on Friday afternoon. Each student will be allowed to bring two guests to one of their assigned performances. All guests must be fully vaccinated and masked. In addition, The Elisabeth Morrow School will share a professionally filmed video with families. If EMS COVID safety protocols must change and we must close our campus to visitors, we will produce a professionally filmed video to share with families as we did in summer of 2021.