Each year of EMS journey builds on the one before.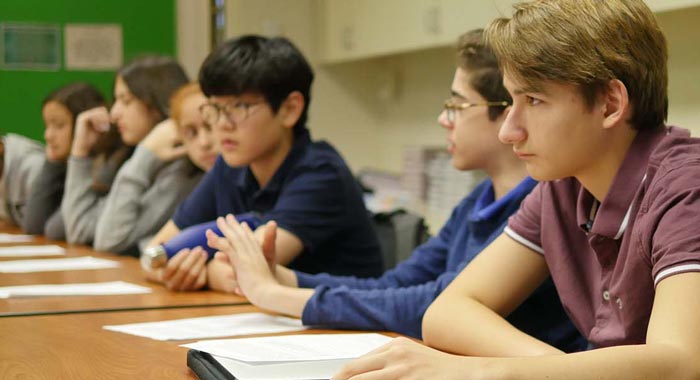 Children who graduate from ems are better prepared for competitive Secondary schools.
"Secondary schools tell us that EMS students have a unique desire to contribute to their new schools that really sets them apart from other freshmen."
Michele Bower, Director of Curriculum & Secondary School Placement
By allowing children to slowly gain increasing levels of responsibility and maturity through our middle school, children gain self-confidence and comfort with their identity before transitioning to the challenges of secondary school. When a student leaves EMS prior to graduation, they become the youngest children in their school and no longer benefit from being seen as school role models and leaders.
our shared future is better with your family a part of ems.
"We will forever be thankful for EMS, where my kids seem to be picking up values integral to a democratic society — curiosity, empathy, an appreciation for diversity."
Shabri Mitta, Parent
At EMS, we teach students how to think, not what to think, and to find joy in the learning process. STEAM — science, technology, engineering, the arts, and mathematics — is woven throughout our curriculum, which offers a balance of academic rigor and character development. Our music program and sprawling campus are unparalleled among peer schools in the area. All of this adds up to the unique experience that only EMS can offer, designed to inspire students to become curious scholars, ethical leaders, and global citizens.
EMS is open and safe
"The school has figured out a way to stay open and keep everyone safe. And every time I come to get [my child], she runs to me with a smile on her face. You know, we couldn't be happier."
Lauren James, Parent
Unlike other schools in the area, EMS has remained open since September 2020, safely delivering an in-person experience for all our students throughout the COVID-19 crisis. Through extensive safety retrofitting, staff training, and vigilant family participation, we have created a safe environment for our families and staff to continue the learning process.
EMS is different
"What struck me immediately when our family came to EMS was how wonderful the parent body was. They are the hidden treasure of EMS: warm, generous, and always ready to volunteer and lend their hands to a cause."
Roland Davis, Parent
One of the first things that families notice about EMS is the strength of our community. Educating the whole child means that families must play a central role, and we are eager to partner with you as your family evolves and your needs change. Beyond the support that we provide to children to help them become the best version of themselves, we are here for you and invite you and your family to get involved to make the most out of the EMS experience. If you ever have any questions or are seeking connections, there are many families we can put you in touch with who would love to get to know you better!
The Re-enrollment Process
Step 1: If applicable, apply for financial aid.
Financial aid applications are due on Friday, January 7, 2022. Please submit your SSS application using 2020 tax information. 2021 tax documentation is due on April 15, 2022.
Step 2: Receive and review your re-enrollment contract in late January.
Contracts for re-enrollment are due on Wednesday, February 16, 2022. To secure your child's place at EMS, you must submit the completed contract as well as the non-refundable enrollment deposit.
This deposit to secure your spot for the 2022–2023 school year will be the equivalent of 10% of annual tuition. Families receiving financial assistance will pay 10% of their discounted tuition.
Step 3: Note the tuition liability deadline and mark it on your calendar.
The tuition liability deadline is Sunday, May 1, 2022. Families who withdraw after this date are responsible for 100% of the annual tuition for the 2022–2023 school year.
Step 4: Pay fall tuition or, if on the payment plan, pay your first monthly installment.
Tuition for fall 2022 is due on Friday, July 1, 2022. Families electing to participate in a monthly payment plan will pay their first installment no later than July 1, 2022.